PRIMAL RESULTS
& FREQUENT UPDATES
As a leader in kettlebell training, Eric Leija aims to empower you in your pursuit of excellence. He's developed the world's best kettlebell courses, workout plans and online training available today. Eric continually develops the best daily workouts and workout programs and shares them on a weekly basis through his subscription service. These workouts and programs are designed to provide results of the highest degree in different fitness goal-oriented methods.
Burn Massive Calories & Fat

Build Lean Muscle & Tighten Your Body

Improve Strength, Flexibility, & Posture

Break Through Plateaus & Personal Records

Give Your Entire Body A Complete Workout Fast

Radically Transform & Enhance Your Entire Physique
DAILY
WORKOUTS
Follow Eric and his daily routines, updated weekly, to discover and learn his unique training concepts to develop your own workout programs.
MONTHLY
SUBSCRIPTION
Subscribe to the monthly membership service to unlock special features, workout programs, and daily routines not available anywhere else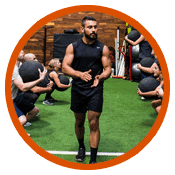 EXCLUSIVE
PROGRAMS
Sign up for exclusive goal-oriented programs. Tailored and in-depth, these programs are developed to achieve targeted results.
★★★★★
@gyakudave1
I never actually bought any course before this. And I am happy I bought this one of the thousands out there. It was a real challenge and I actually feel so much stronger thanks to what this course has provided me. I have been recommending it to friends whenever possible and only has positive things to say about this course. 5 out of 5. Top class!
★★★★★
@mada714913
If you are reading this review & are thinking about trying the course. Stop thinking JUST DO IT. At 48, I consider myself in pretty good shape. I run, ride mountain bikes, play basketball, do resistance training & compete in Spartan races. Before getting the PKC; I tried a few of the KB flows (VERYHUMBLING).This PKC will challenge you in EVERYWAY possible. So many good things to say
★★★★★
@scholey.p
As a fitness professional myself, I know many trainers will set you up to be dependent upon them. Eric's given his primal flows and format in a stylish doggy bag (almost Flyers colors, too). That's dope…
From one swinging ape to another… Keep up the great work.
ERIC'S DAILY WORKOUTS
UPDATED ON A WEEKLY BASIS
Eric's kettlebell workout plans are updated on a weekly basis and available online from any device, anytime. Follow Eric's daily routines and discover his uniquely styled training concepts to develop your own primal workouts.
HERE'S SOME OF WHAT'S INCLUDED:
Exclusive Access to Eric's Ongoing Daily Workout Routines

Uncover Eric's Conventional & Unconventional Training Methods

Video Demonstrations of Each Exercise

Detailed Explanations of Each Exercise

New Daily Gym & At Home Workouts Posted Weekly
GOAL ORIENTED FITNESS PROGRAMS
EXCLUSIVE CONTENT RELEASED FREQUENTLY
Stop wasting your time with one-size-fits-all workouts, training programs, and YouTube workouts. Don't throw things together and hope for the best.
Get the perfect workout program for you. Eric's monthly workout subscription are designed to help you achieve your goals with fun, fast, and effective daily workouts. Eliminate the guesswork. Get consistent results. Get the body you deserve.
Your Eric Leija monthly subscription includes exclusive workout programs released periodically and are always accessible. These unique programs are extremely goal focussed and can be used to achieve specific results for targeted muscle groups.
"Awesome coach, and, Eric's kettlebell
flows have changed my thoughts about
kettlebells movements. Thank You!"

— Mcgovern T.
"Many new ideas and different techniques
that I can add into my own routines!"

— Ben C.
"Eric is a powerful online trainer, follow
him for great examples of workouts
that will get you ripped!"

— Ari L.
"Eric Leija is The King of kettlebell
complexes, great demo videos!"

— Eirik L.
"This guy is so creative with Kettlebells.
Highly Recommended!"

— Joe E.
"I want to thank you for all that you post!
I'm approaching an age group where my
joints are feeling the aches & pains of
training.

Your Kettlebell flow techniques are helping
me stay fit, focus on movements & technical
techniques while saving me from daily pain,
thank you!"

— Che
WORKOUT ANYTIME, ANYWHERE!
Whether you're a fitness enthusiast, professional athlete, or someone who's struggling to break free of your current physique, Eric's dynamic kettlebell workout plans work wonders. His cutting-edge techniques, special methods, and workouts get the job done.
BENEFITS & FEATURES
New workouts uploaded weekly

All workouts can be performed at home or a gym

All Workouts Available Online & Accessible Anywhere.

Every daily workout is new. Scratch the same old routines

View previous workouts

Video demonstrations of each exercise

Detailed description of each exercise
JOIN THE COMMUNITY
The Primal Swoledier Community is over 1 Million+ strong and growing. Our community consists of amazing fitness enthusiast located all over the world dedicated to optimizing their life through fitness, health, diet & nutrition. Whether you're a pro athlete, personal trainer, or just an everyday fitness enthusiast looking for something new, we have the tools you need to help you unleash your primal greatness!
Your subscription includes access to the members content area— A FREE platform designed to easily access and organize all your fitness and diet content in one place via mobile device or computer.  
Our mission is to create health & fitness related content that inspires everyone to think outside of the "traditional" confined fitness movements, exercises, and tools to incorporate an unconventional training approach to their exercise routines.